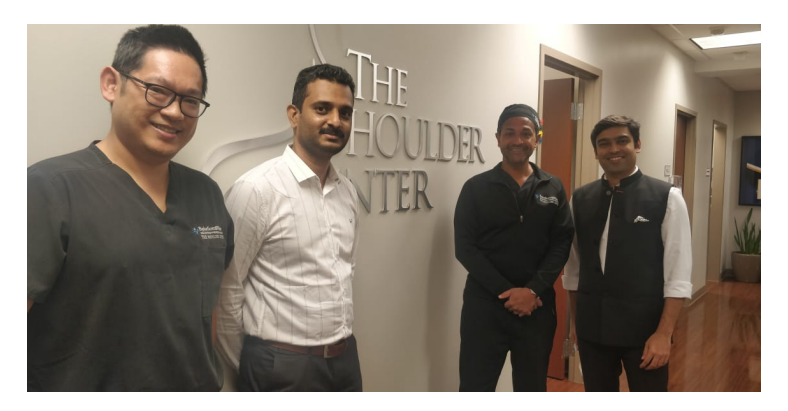 Indian American Shoulder and Elbow Surgeons
IASES Visiting Fellows 2022 Report
The 2022 IASES Traveling Fellowship is complete! Dr. Chintan Desai (Mumbai) and Dr. Balaji Sambandam (Tiruchirappalli) were able to visit 7 physicians across 7 cities while attending both the OSET and ASES conferences. Regarding the experience, Dr. Sambandam said that what he learned in the operating room during his visit was "only part of the learning."
The fellows started in Dallas where they visited Dr. Sumant Krishnan at The Shoulder Center at Baylor University. They observed 11 arthroscopic rotator cuff repairs with Dr. Krishnan as well as a total reverse shoulder arthroplasty by Dr. Eddie Lo. The fellows additionally attended lectures by Dr. Krishnan on the history of reverse arthroplasty and shoulder implant removal.
They continued on to Chicago, where they observed Dr. Nikhil Verma. In two days of surgery the fellows experienced 6 knee scopes, 7 rotator cuff repairs and an elbow arthrolysis. After an additional day in the clinic, Dr. Desai and Dr. Sambandam were given the weekend to explore the Windy City.
After 5 days in the midwest, the fellows traveled over to the East Coast. They spent an entire week in Boston, spending the first four days with Dr. Andrew Jawa at New England Baptist Hospital and Dr. Arun Ramappa at Beth Israel Deaconess Medical Center. Seven shoulder operations were viewed during their visit. Dr. Sambandam specifically recalls an interesting case of a bucket handle tear of the glenoid labrum, and a mini open deltopectoral subscapularis repair. On top of viewing procedures, the fellows were able to attend a journal club.
After four days of observation, the fellows participated in the Orthopaedic Summit and Evolving Techniques Conference at the Encore in Boston Harbor. The fellows attended the shoulder and elbow arthroscopy as well as the upper limb trauma sessions.
Following the conference, they took a train from Boston into New York City, spending three days with Dr. Mandeep Virk at NYU Langone Orthopedic Hospital. They saw a total of 9 operations with Dr. Virk as well as Dr. Joseph Zuckerman, Dr. Andrew Rokito and Dr. Young Kwon. While in New York, the fellows attended a Resident's conference at NYU, where Dr. Sambandam presented his paper on extra auricular scapular fractures.
After a shorter train ride, the fellows arrived in Greenwich to visit Dr. Paul Sethi and the Orthopaedic & Neurosurgery Specialists. Dr. Sethi was joined by Dr. Seth Miller on the first day, where the fellows saw three shoulder arthroplasties performed. The fellows gained valuable experience and knowledge in techniques to perform a BIO reversed shoulder arthroplasty. On the second day, they learned the suture bridge technique while observing three rotator cuff repairs.
Dr. Sambandam returned to India following Greenwich while Dr. Desai continued on his journey to visit Dr. Uma Srikumaran at Johns Hopkins in Baltimore. Dr. Desai observed 5 surgeries with Dr. Srikumaran before attending his first baseball game at Camden Yards. In Baltimore, Dr. Desai stayed at the home of Dr. Srikumaran said that he "certainly felt part of his [family]."
The last stop of the program was the American Shoulder and Elbow Society Conference in Atlanta. There, the IASES members met for a dinner where Dr. Desai presented his experiences throughout his journey. He was extremely fortunate to meet and speak with all of the shoulder "superstars" as well as the sponsors that made his trip possible.
Looking back at the fellowship, Dr. Paul Sethi said, "It was a thrill to share this exchange of learning. The visiting fellows contributed as much to my education as I hope we did to theirs. I hope that this is just the beginning of a healthy exchange of knowledge across the continents."
Dr. Desai noted, "I wish that the many who come after me will benefit from this program even more than what I did." He is extremely fortunate for the opportunity stating the, "nostalgia attached with this trip is going to be a lifelong memory. Memories to cherish."
The program was able to operate within 5% of the expected budget and was a rewarding experience for all. We are excited to continue the program and send out applications for the 2023 Traveling Fellowship.
Finally, thank you to our sponsors for their generous donations which allowed this program to flourish. Thank you to DePuy Synthes, Arthrex, Zimmer BioMet, Pacira, Dr. Joseph Zuckerman, Exactech, FX Shoulder Solutions, and Envois.